In order to protect elderly persons and dependent adults, the Elder Abuse and Dependent Adult Civil Protection Act was expanded at the beginning of this year. Specifically, the Act was broadened to reduce abuse in the form of isolation, which was made worse by the COVID-19 pandemic. The Act allows petitioners to obtain an order enjoining a party from abusing an elder or dependent adult by isolating them. Below, our attorneys explain how the court can order to restrain a person from an elderly or dependent adult.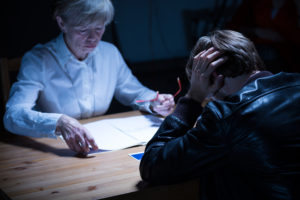 Who Can Petition for a Protective Order? 
Generally, any adult over the age of 65 can file for a protective order, along with their conservator, trustee, attorney, or any other person that the elderly person authorized to file on their behalf. Additionally, dependent adults between the ages of 18 and 64 with physical or mental limitations can also petition for an order of protection. The protective order covers not only the elderly or dependent adult but also any other family or household members upon showing good cause. The order can even be made to include pets residing with the petitioner. 
To obtain a protective order, the petitioner must show some form of physical, mental, or financial abuse. Physical abuse includes assault, battery, sexual assault, unreasonable physical constraint, or deprivation of food, water, or medication. Mental abuse also includes neglect, abandonment, isolation, abduction, or deprivation of necessary goods or services. Moreover, taking advantage of an elder's money constitutes financial abuse. 
How Will Expansion of the Act Affect Protective Orders? 
With the expansion of the Elder Abuse and Dependent Adult Civil Protection Act, caregivers and family members should be especially careful not to engage in conduct that could be deemed "isolating" for the elderly or dependent adults. In order to seek a protective order based on isolation under the amendment, the petitioner must prove: 
The restrained person repeatedly prevented contact between the elderly adult and the interested party. 

The elderly adult expressly desired contact with the interested party. 

The restrained person's isolation of the elderly adult was not in response to an actual or threatened abuse of the elderly adult by the interested party, or the elderly adult's desire not to have contact with the interested party. 
This means that even if you believed that isolation was in the elderly person's best interest, you may still be charged with elder abuse under the new bill. As such, you may wish to consult with an attorney before proceeding with any decisions regarding an elderly or dependent adult. 
What Can the Court Order? 
Before the Hearing 
Petitions for protective orders are heard in court before a judge. In response to a petition, the court will generally first issue a Temporary Restraining Order (TRO), which lasts up to 21 days. TROs can include any of the following orders: 
Personal conduct orders: These require the restrained person to cease specific acts against the protected party. 

No contact and stay away orders: These prohibit the restrained person from being in physical or verbal contact with the protected party. 

Residence exclusion orders: These exclude the restrained person from the family or common dwelling of the restrained person and protected party. 

Protections for pets 

Protections against acquiring the address of the protected party 

Any other restraints to effectuate the court's orders 
After the Hearing 
After a hearing, the court may then grant an Order After Hearing. Orders After Hearing may last up to 5 years or be permanently in place, depending on the circumstances of your case. These Orders include: 
Residence exclusion orders 

Payment of damages to the victim 

Payment of attorney's fees to the victim 
Contact Wallin & Klarich Today 
If you have been accused of elder abuse or are facing a protective order against you, you need a skilled defense attorney to represent you in court. With 40+ years of experience, our attorneys at Wallin & Klarich have helped thousands of clients prove their innocence and get the orders against them dismissed. We understand how tough and personal these cases can be, but we will do everything in our power to help you clear your name. By keeping up-to-date on the recent changes to our laws, our attorneys know the most effective strategies to achieve the best possible outcome for you. 
With offices in Orange County, Riverside, San Bernardino, Victorville, Torrance, West Covina, Los Angeles, and San Diego, you are sure to find an available Wallin and Klarich office near you. 
Discover how our team can assist you. Contact us today, toll-free at (877) 4-NO-JAIL or (877) 466-5245 for a free consultation with a skilled defense attorney.