October 24, 2018
Street vendors have long set up on the streets of California cities to sell bacon-wrapped hot dogs and other food to passers by. While street vendors add to California's unique flair, cities like Hollywood have struggled with how to address these unique businesses. Past efforts to legitimize street vendors have had little success. However, a new law will finally decriminalize street vending in California.
Safe Sidewalk Vending Act (SB 946)
Governor Jerry Brown recently signed Senate Bill 946 into law, according to reports. When it goes into effect on Jan. 1, 2019, this law will decriminalize the selling of foods and other goods on sidewalks and in parks in California.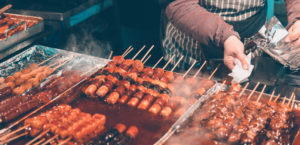 Known as the Safe Sidewalk Vending Act, the law prevents street food vendors from facing criminal penalties and allows any vendors who were previously cited to clear those citations.
Under the law, cities are encouraged to create their own permit programs for street vending. Street vendor licensing systems must follow a specific set of rules, including:
California cities cannot ban vending in parks

Cities cannot determine where vendors operate unless there is a health, safety or welfare issue

Street vendors are not required to ask adjacent businesses for permission to operate
Cities can't prohibit or regulate vendors unless they have a licensing system in place.
Food vendors may be required to follow the same laws as other businesses. This includes obtaining a business license, following state tax laws and meeting health regulations when selling fresh fruit or meats. If street vendors violate the law, local governments have the ability to fine offenders or repeal their operating licenses.
Did Street Vending Need to Be Regulated?
Lawmakers reportedly pushed for the passage of Senate Bill 946 after hearing stories of street vendors being harassed and arrested. They cited a specific story where a mother was arrested by Immigration and Customs Enforcement agents for selling corn and held in custody for six months before being released by a judge's order. According to the bill's authors, legalizing street vending could also reduce acts of violence.
Making the act of street vending legal also allows California cities to collect taxes from food vendors. Additionally, those who wish to sell street food have an avenue to become legitimate business people and viable contributors to local economies.
Contact the Criminal Defense Attorneys at Wallin & Klarich Today
If you or a loved one has been accused of a crime, it is important that you speak with an experienced criminal defense attorney immediately. At Wallin & Klarich, our skilled criminal defense attorneys have more than 35 years of experience successfully representing clients who were accused of crimes. Let us help you now.
With offices in Orange County, Riverside, San Bernardino, Victorville, West Covina, Torrance, Los Angeles and San Diego, you can find an experienced Wallin & Klarich criminal defense attorney available near you no matter where you work or live.
Call our law office today at (888) 280-6839 for a free phone consultation. We will be there when you call.